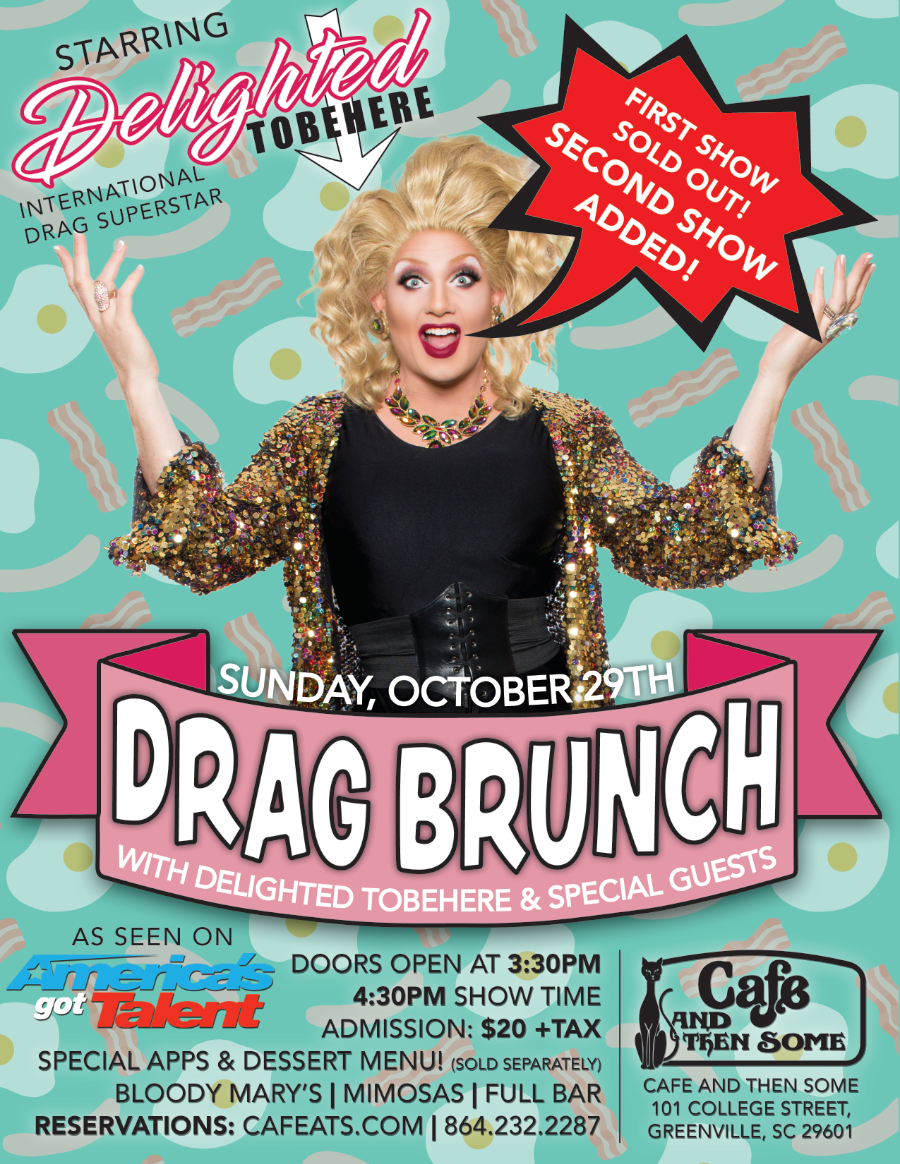 Direct from NYC!  One Day Only!
Your Sunday just became a little more FABULOUS! Living up to the "and Then Some" part of their name, Cafe and Then Some has partnered with international drag superstar – and Clemson graduate – Delighted Tobehere to bring you Greenville's first ever DRAG BRUNCH!! YES! Enjoy a delicious brunch, incredible Bloody Marys and Mimosas (and a FULL bar), and a show stopping drag show all on a beautiful Greenville Sunday afternoon! You read that right, a drag show during the daytime! The show will feature side splitting comedy, mind-blowing celebrity illusion, unclockable lipsync performances, and believe it or not, LIVE SINGING! Delighted Tobehere was featured on America's Got Talent, receiving 4 Yes votes from the judges for her performance of Josh Turner's "Your Man!" and will be bringing that 5 star talent to the Cafe and Then Some stage! Joining her will be Upstate favorite Cheetah Kane Morgan, and the legendary Rose Michaels! So gather your friends, your dollars, and your appetites and make your reservations RIGHT NOW for Delighted Tobehere's DRAG BRUNCH!
Second Show: Sunday, October 29, 2017
Admission Charge for the show: $20 plus tax per person
Special Appetizers & Dessert Menu:  a la carte
Snack seatings: 3:30, 3:45, 4:00p.m.
Show only seating: 4:00 p.m.
Showtime: 4:30 p.m.
RESERVATIONS BY TELEPHONE:  864-232-2287