Greenville Premier!!!
One Day Only: Two Shows!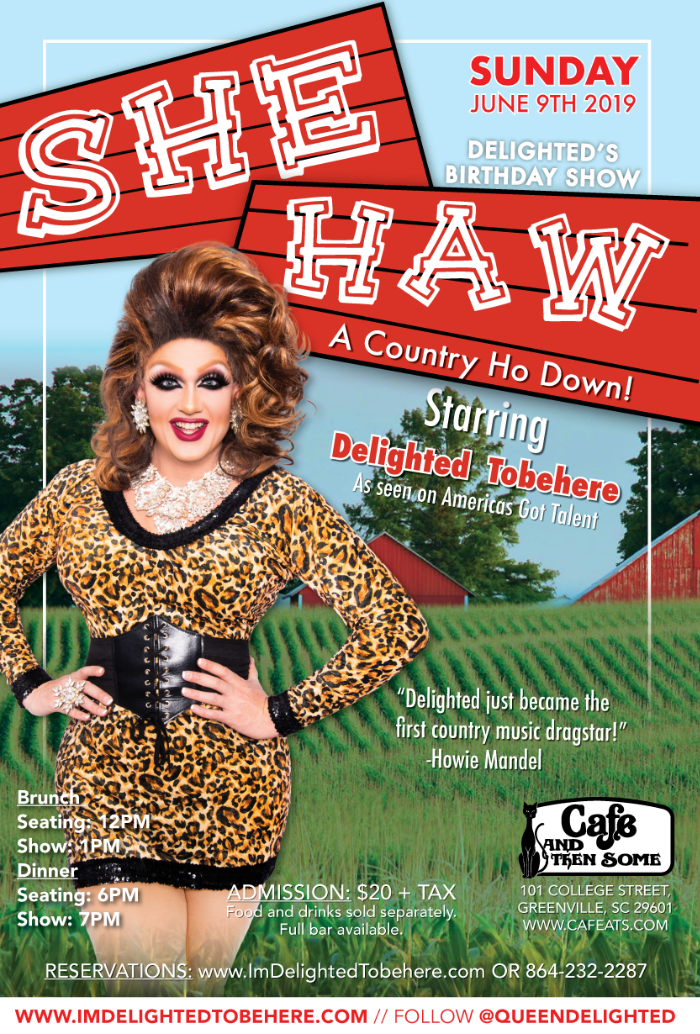 ANY MAN OF MINE…
better get reservations to SHE HAW!
This country ho down stars the internationally renowned drag queen Delighted Tobehere, and the host of our regular Delighted's Drag Brunch and Dinner! She might live in NYC, but this FANCY lady hails from right here in Greenville and knows a "thang" or two about country music! In fact, when she performed on America's Got Talent Howie Mandel said she "just became the first country music drag star!" She's packing her RED HIGH HEELS and hoppin' in her SIN WAGON to bring you this hilarious, live singing show that would make the Grand Ole Opry proud! You'd be CRAZY not to get your tickets today!
PS: This show falls on Delighted's BIRTHDAY! So gather your friends and let's celebrate another year of this 8 foot tall country bumpkin!
So gather your friends, your dollars, and your appetites and make your reservations RIGHT NOW for Delighted Tobehere's DRAG BRUNCH and DRAG DINNER!  You'll be delighted you did!!!  Please note that credit cards are required for reservations, and that no-shows or cancellations within 24 hours of the show will be charged.
Ooooo look-y there! SHE HAW has reviews! Check 'em out!
***FIVE STARS***
"Stunning vocals and southern charm and wit. What a fantastic way to top off an evening. Make sure you make time to see She Haw!" – TripAdvisor
"Laughed til my sides hurt. What a wonderful entertainer!" – Puerto Vallarta Entertainment Weekly
"Delighted possesses an open and inquisitive personality which endears herself to the audience and makes them sit back, relax and enjoy. One never knows what to expect after walking through the doorway. But, one fact is known: the event will shake you, thrill you, tickle you and impress you with this great ball of talent." – Beck's Best Puerto Vallarta
Drag Brunch Show:  
SOLD OUT!

Admission Charge for the show: $20 plus tax per person
Special Brunch Menu:  a la carte
Brunch & Show seatings: 12:00, 12:15, 12:30pm
Brunch SHOW ONLY seating: 12:30, 12:45pm
Brunch Showtime: 1:00 pm 
Call  864-232-2287 for information!
Drag Dinner Show:
SOLD OUT!

Admission Charge for the show: $20 plus tax per person
Special Dinner Menu:  a la carte
Dinner & Show Seatings:  6:00, 6:15, 6:30pm
Dinner SHOW ONLY seatings: 6:30, 6:45
Dinner Showtime: 7:00pm  
Call  864-232-2287 for information!