DRAG QUEEN DOWN!!!

The Drag Events of June 9 through June 11 have been postponed!


Delighted is in self-quarantine due to testing positive June 8!

Watch this space for info on her next drag show!
But, in her place…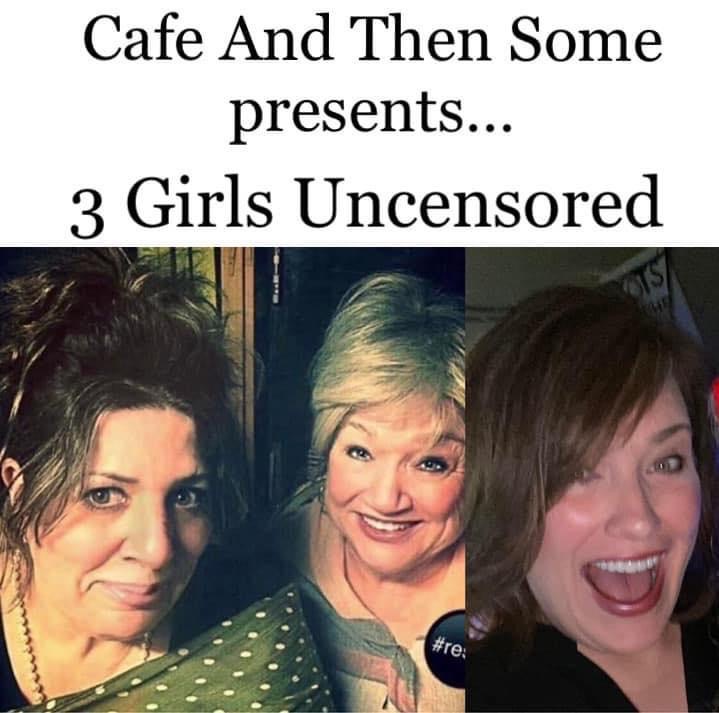 This Friday and Saturday ONLY!


Starring
Candace Bolt, Susan "Doesn't have a Facebook page" Smith,
and the ever-so-warped Maureen Abdalla.

Dirt will be dished.
There will be a Q&A with the audience.
And, as an extra-added attraction, we will make fun of our families!
Delighted Presents….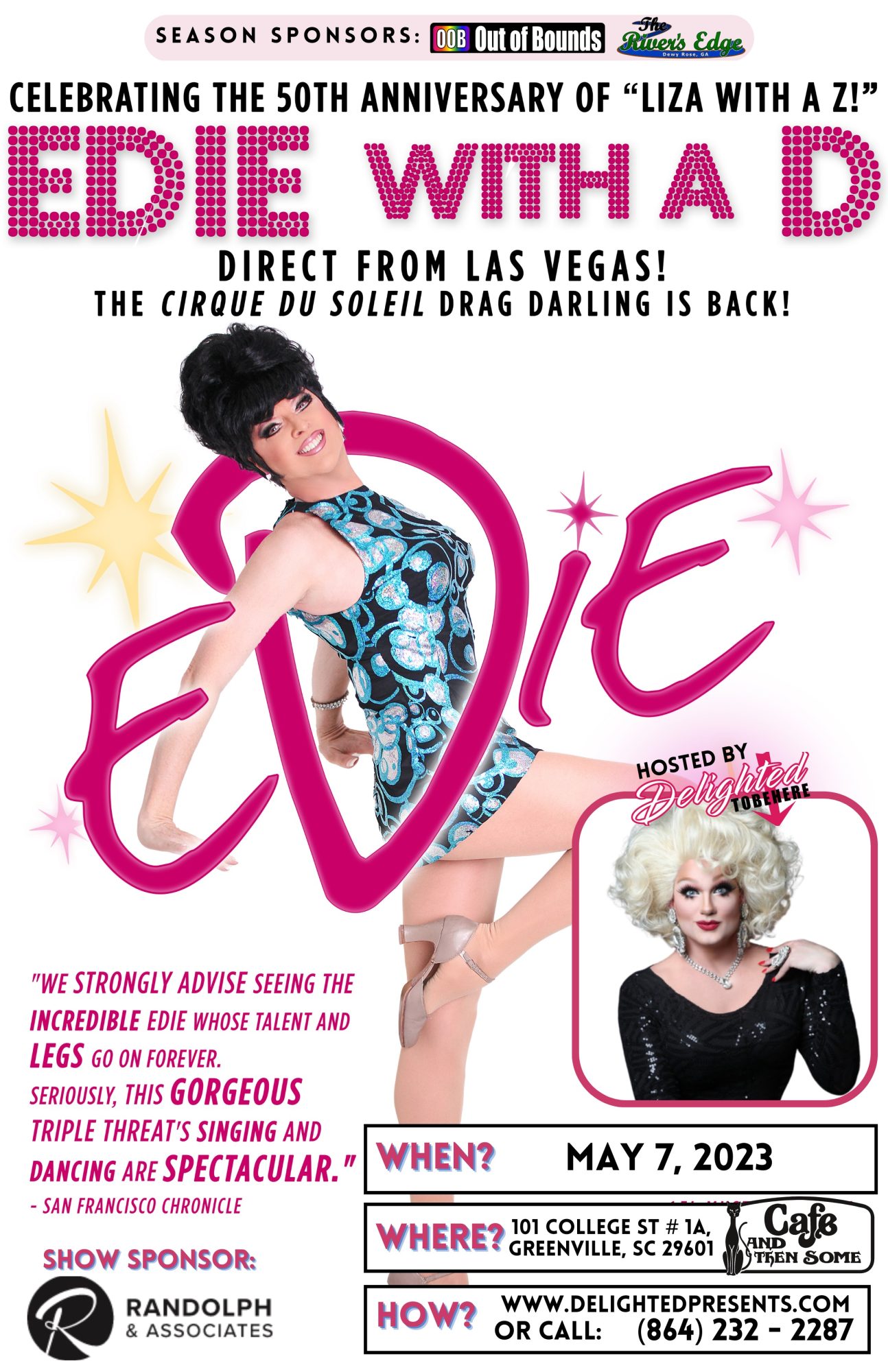 Viva Las Vegas!  Cirque du Soleil's host for Zumanity lands in Greenville for one day only!
Edie with a D is part tribute to the iconic 1972 Television special "Liza with a Z." The first concert filmed for TV, this Bob Fosse directed special turns 50 this year. The timing couldn't be more perfect. And those songs!  That choreography! As a Fosse-trained dancer, I wanted to pay equal tribute to Liza and Fosse who inspired myself and so many dancers around the world. I am honored to celebrate this legendary duo during my summer residency.
Delighted will be the opening act for this Vegas superstar so make your reservations today!
EDIE is best known from Cirque du Soleil's hit show ZUMANITY where she starred as the emcee, the "Mistress of Sensuality," at the NY-NY Hotel & Casino in Las Vegas. During her 13 year run, EDIE performed over 5,600 shows for over 6million people. EDIE began her professional dance career at the age of 17 with Ballet Oregon. For the next eleven years she danced with Pacific Northwest Ballet, Ballet Chicago, and Pennsylvania Ballet before moving to New York to pursue musical theater. EDIE quickly became a fixture in New York City where she racked up a bevy of awards including Best Drag Queen (HX Award), Best Dance Artist and Entertainer of the Year (Glammy Award). She starred in her autobiographical, off-Broadway show "LEGS!," performed on the MTV Video Music Awards, appeared on "Sex and the City," was featured at Wigstock and Broadway Bares, and made her Broadway debut alongside Cyndi Lauper and Alan Cumming in the Tony-nominated revival of "The ThreePenny Opera" at Studio 54. The San Francisco Chronicle "strongly advises seeing the incredible EDIE whose talent and legs go on forever." EDIE currently stars in "Faaabulous! The Show," where she serves as host/performer/creator/producer in the only live singing drag show in Las Vegas. EdieEntertainer.com
Thanks to our sponsors, Randolph and Associates, Out of Bounds, and The River's Edge Camp Ground!
The basics:  Things just became a little more FABULOUS in Greenville! Living up to the "And Then Some" part of our name, Café And Then Some has partnered with international drag superstar – and Clemson graduate – Delighted Tobehere to bring you Greenville's first ever DRAG BRUNCH AND DINNER!!!  YES!  Enjoy a delicious meal, incredible Bloody Marys and Mimosas (and a FULL bar), and a show-stopping drag show – all on a beautiful Greenville Sunday!  You read that right, a drag show that takes place before midnight, haha!  The show will feature side-splitting comedy, mind-blowing celebrity illusion, unclockable lip sync performances, and believe it or not, LIVE SINGING!
So gather your friends, your dollars (for tipping the performers), and your appetites and make your reservations RIGHT NOW for Delighted Tobehere's EDIE WITH A D!  You'll be delighted you did!!!  Please note that credit cards are required for reservations, and that no-shows or cancellations within 24 hours of the show will be charged.
DRAG DINNER SHOW:

  Sunday, May 7th!

Admission Charge for the show: $25 plus tax per person
Special Dinner Menu:  a la carte
Dinner & Show Seatings:  6:00, 6:15, 6:30pm
Dinner SHOW ONLY Seatings:  6:45, 7:00pm
Dinner Showtime:  7:30pm  
Call  864-232-2287 for reservations or click the button below!