Stay Tuned for Our Next Special Event!
Details coming soon.
Celebrate the New Year!!!
One Day Only: Two Shows!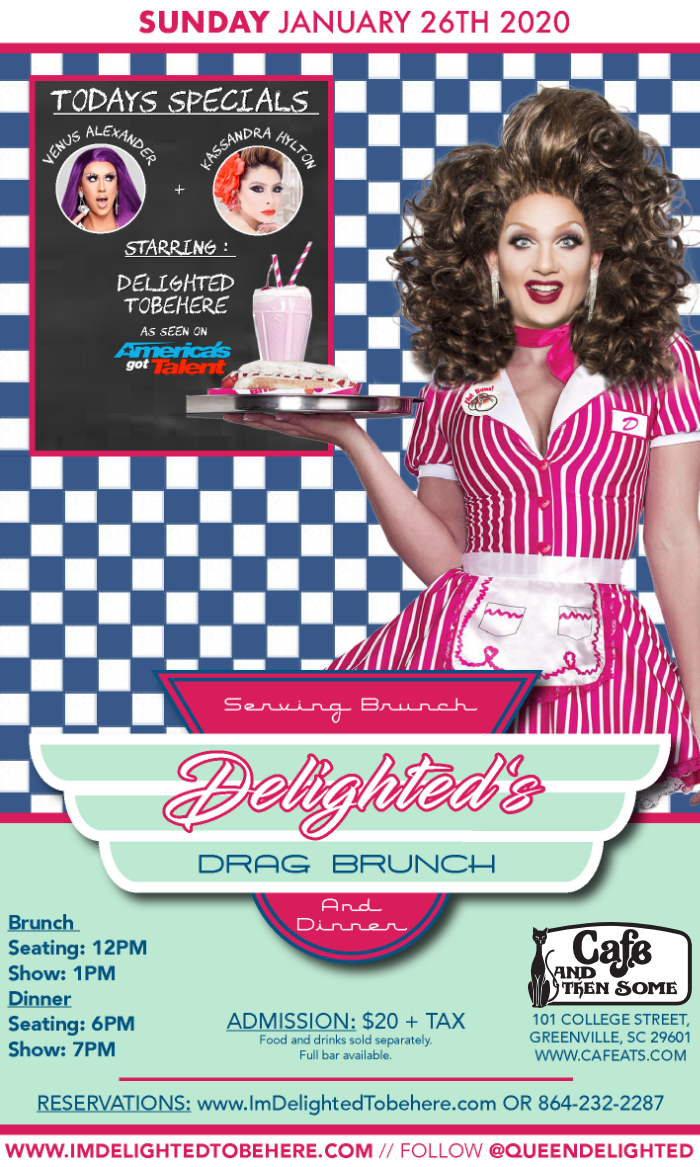 HAPPY NEW YEAR!
2020 is going to be an INCREDIBLE year for DDBD! We're so excited to announce our first cast of the year! On January 26th we welcome Venus Alexander from Charleston and Kassandra Hylton from Charlotte! It's getting cold outside, but this show is going to be HOT! Y'all are NOT ready! Get your tickets before they're gone! You'll be DELIGHTED you did!
The basics:  Sunday just became a little more FABULOUS in Greenville! Living up to the "And Then Some" part of our name, Cafe And Then Some has partnered with international drag superstar – and Clemson graduate – Delighted Tobehere to bring you Greenville's first ever DRAG BRUNCH AND DINNER!!  YES!  Enjoy a delicious meal, incredible Bloody Marys and Mimosas (and a FULL bar), and a show-stopping drag show – all on a beautiful Greenville Sunday!  You read that right, a drag show that takes place before midnight, haha!  The show will feature side-splitting comedy, mind-blowing celebrity illusion, unclockable lip sync performances, and believe it or not, LIVE SINGING!
So gather your friends, your dollars, and your appetites and make your reservations RIGHT NOW for Delighted Tobehere's DRAG BRUNCH and DRAG DINNER!  You'll be delighted you did!!!  Please note that credit cards are required for reservations, and that no-shows or cancellations within 24 hours of the show will be charged.
Drag Brunch Show:

  SOLD OUT!

Admission Charge for the show: $20 plus tax per person
Special Brunch Menu:  a la carte
Brunch & Show seatings: 12:00, 12:15, 12:30pm
Brunch SHOW ONLY seating: 12:30, 12:45pm
Brunch Showtime: 1:00 pm 
Call  864-232-2287 for information or to go on our waiting list!
Drag Dinner Show:
Sunday, Jan. 26th!

Admission Charge for the show: $20 plus tax per person
Special Dinner Menu:  a la carte
Dinner & Show Seatings:  6:00, 6:15, 6:30pm
Dinner SHOW ONLY seatings: 6:30, 6:45
Dinner Showtime: 7:00pm  
Call  864-232-2287 for reservations or click the button below!